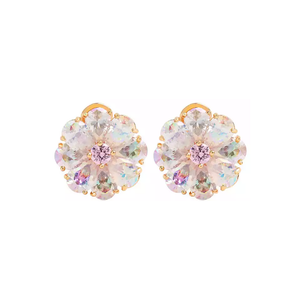 A playful pair of buttercup flowers perfected with Aurora Borealis, pear-shaped Diamontage™ simulated diamond petals, rose gold prong-sets and butterfly back accoutrements yields a stunning pair of clip earrings sure to be a treasure for your jewelry box. Open-backed architecture allows for maximum light play and sparkling brilliance of the Aurora Borealis coloration.  Casual enough for day wear with post but also transition to evening wear with the Aurora Borealis and rose gold combination matching all reds, yellow in the spectrum. 
Fashion Fact: Margaret's Nouveau collection designs have some thirty-plus varieties of petaled flowers, including these buttercups.
Celebrity Culture: Margaret's Buttercup Trio earrings were recently seen in the national  Inside Weddings magazine.  TheButtercup earrings were als featured in 'Inside Weddings' magazine in a Grace Kelly feature editorial.
Dimensions: .625-inches in diameter for each earring
Approximate Carat Weight (mm/c):  4.58 carats per earring, 9.16 carats per pair (+/-)
Materials: Hand-made earrings of hand-set pear-shaped (teardrop) and round Aurora Borealis Diamontage™ simulated diamonds completed with a no tarnish, hypo-allergenic rose gold over rhodium finish. Diamontage is our perfected brand of AAA+ Swiss simulated diamonds. Diamontage diamonds are simulated to be flawless, free of inclusions, totally transparent and cast a brighter fire than real diamonds.
Finishing: The Buttercup Flower Solo pair is delivered to you in a Margaret Rowe designer's Noir velvet box.