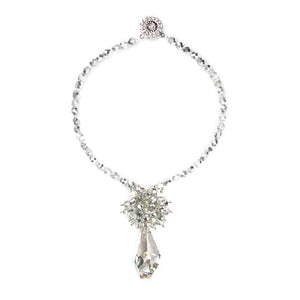 A modern geometric cut Swarovski drop pairs with a reflective 1950s constellation cluster element and magnificent strands of 'mirror-like' Swarovski crystal to yield a necklace that is equal parts edge and evening.  An unforgettable statement necklace that pairs with any color and truly captures 'The New Precious' in wearable, sought-after vintage.
Dimensions: 16-18 inches in length with extender to accommodate any size; constellation element is 2-inches in diameter; faceted drop 2.75 to 3-inches in height
Materials: Hand-made by the designer with strands of chromated Czech crystal that yields a 'mirror-like' quality.  The Chrome Geometric is comprised of a 1950s vintage 'mirror-like' constellation element and a modern geometric cut Swarovski crystal drop.  Two-inch extension and clasp for custom-fit available on request. 
Finishing: The Chrome Geometric Drop estate necklace is delivered in a luxe Margaret Rowe Noir archival velvet box, stamp-signed by the designer with a Certificate of Authenticity & Creation.