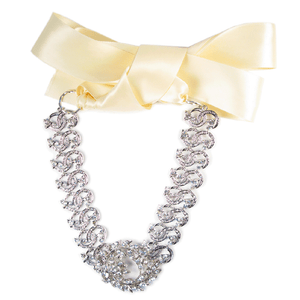 Sixteen etched and crystal-set deco ornaments flow toward a crystal filigree wreath centerpiece in this headpiece that exudes beauty. The piece transitions seemlessly to evening wear with a black ribbon. Each Decadent Deco Wreath is personally hand-made and a one-of-a-kind heirloom.
Fashion Fact: Delicate headpieces such as this one adorned many a stateside or Euro starlet in the 1920s & 30s and are making a roaring comeback AND are oft adorned in Royal formal affairs. The Deco Wreath can also be work as a choker or sash/belt.
Celebrity Culture: This headpiece was worn to The Oscars Red Carpet on Designer Margaret Rowe.
Dimensions: Wreath/Deco Ornamentation is 15 inches
Materials: Hand-set crystals with Rhodium metalwork.  Comes with black or ivory ribbon. 
Finishing: The Decadent Deco Wreath is delivered in a Margaret Rowe Noir archival box and is stamp-signed by the designer.