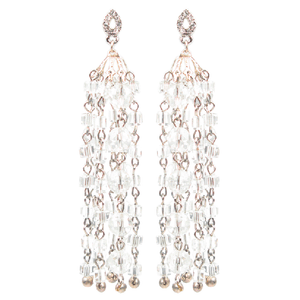 Fourteen hand-made strands of crystal spheres and cubes dangle from sterling carousel ornamentation to form a one-of-a-kind pair of earrings that are a timeless cornerstone for any jewelry collection.  Margaret makes each pair of the Sterling Chandelier Celebration Earrings on order -- each an individual, one-of-a-kind work of art.

Fashion Fact: The Chandelier earring is a fashion staple, made from various stone cuts throughout time and worn fashionably by a wide range of en vogue women from Elizabeth II to Edie Sedgwick.

Celebrity Culture: The Chandelier Celebration pair graced pages of several bridal magazines in Spring 2013 and were selected for 2013 Grammy Award styling.

Dimensions: 3.75-inches in length

Materials: Hand-made by the designer with sterling elements and Czech crystal. For pierced ears.  Signed pair comes in designer's Noir velvet box.